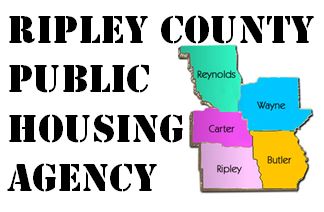 The Ripley County Public Housing Agency strives to provide quality, affordable housing to income-disadvantaged individuals and families in the Southeast Missouri counties of Butler, Carter, Reynolds, Ripley, and Wayne. Over 300 families are provided assistance in obtaining safe and livable housing through this program. In excess of $600,000 per year in rental assistance is administered by the Ripley County PHA on behalf of its five-county service area. Perhaps, most importantly, the housing agency helps its clients to graduate from the rental assistance program. It does so by offering program participants the opportunity to develop home ownership assets through its Family Self Sufficiency Program.
The Ripley County PHA staff is committed to securing economic opportunities for program participants by supporting self-sufficiency and asset development via the Family Self Sufficiency Program and voucher mobility, which assures the ability of individuals and families to relocate to employment centers. In addition, the Ripley County PHA staff utilizes an established social service agencies' resource network to offer access to support for elderly as well as disabled individuals and families.
It is a priority of the Ripley County PHA to provide and promote assisted housing for those most in need so as to advance the economic and social well-being of the participating individuals, families, and communities it serves.
----
The Ripley County PHA is not currently accepting applications for Section 8 rental assistance. Names, social security numbers, date of birth of each household member, and total household income will be required on the applications with documentation of such required at the time of briefing once applicants are pulled from the waiting list.
The Agency is an Equal Opportunity Provider.
Affordable Connectivity Program Sign Up 
General PDFs