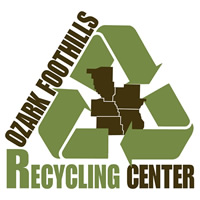 The Ozark Foothills Solid Waste Management District (Recycling Center) is located in the industrial park at 1625 Rowe Parkway in Poplar Bluff. The center is administered by the Ozark Foothills Regional Planning Commission which serves Butler, Carter, Reynolds, Ripley, and Wayne counties. Recycling and resource recovery efforts of many kinds are conducted throughout the region by the District. Its efforts are supported by a grant from the Missouri Department of Natural Resources' Solid Waste Management Program.
Materials Accepted
Clean aluminum cans/items
Clean, dry brown paper bags
Corrugated, cardboard broken down boxes
Shoe boxes or waxed bottles 
Clean, dry newspaper
Clean plastic milk, soda and water bottles
Clean tin cans
Empty household cleaning supply bottles
White office paper
Magazines
Books - Special Collection Only - Call 785-6402
Used Motor Oil - $1 gallon - Temporarily, we are unavailable to accept motor oil
Passenger Tires - $3 per tire
Material No Nos
Styrofoam
Electronics (Including Televisions and Computer Monitors)
Glass
Broken glass, window glass, light bulbs or baking pans
Hazardous/toxic materials bottles
Dirty or wet newspapers
Slick paper
Plastic grocery bags
High Density Plastic (ex. 5-gallon buckets, coolers, children's outdoor play sets, etc.)

Directions: From the City of Poplar Bluff, continue south on Hwy. 142 to the Industrial Park entrance. Turn right (west) on Rowe Parkway. (If coming from the south on Hwy. 142, turn left onto Rowe Parkway.) Continue west on Rowe to the last building on the right. Our facility is a large white metal building with a red roof.
How to Recycle
Bring your recyclables to the Recycling Center, or...
If you live in or near Van Buren, Poplar Bluff, Ellington, Doniphan, Wappapello, or Piedmont the Collection schedule is as follows. 
Van Buren: Trailer is located at City Hall on the 2nd and 4th weekend of each month. 
Poplar Bluff: The recycling center is open Monday-Friday 8am-4pm.
Ellington: Trailer is located on the city lot by the ball field and recyclables are collected when full.
Doniphan: Trailer is located at the soccer field on the first and third full weekends of each month.
Wappapello: Trailer is located at the Corps of Engineers Office and recyclables are collected when full.
Piedmont: Trailer is located at City Hall and recyclables are collected when full.  
Recycling 
Recycling in Missouri expands the economy, strengthens our community, and protects our environment. Recycling one ton of...
Aluminum saves 95 percent of the energy used to manufacture virgin aluminum. 
Newspaper saves enough energy to heat a home for 6 weeks as well as 7,000 gallons of water and 60 pounds of air pollution. 
Plastics saves about 3.85 barrels of oil. 
-----
Safety Advisory Notice for the Transportation of Lithium Batteries for Disposal or Recycling
Are you involved in the transportation or handling of lithium batteries at end-of-life? PHMSA has issued the Safety Advisory Notice for the Transportation of Lithium Batteries for Disposal or Recycling for those who transport, dispose of, or recycle lithium batteries and products containing lithium batteries. The notice aims to increase awareness for the public and shippers about the often-unrecognized dangers posed by lithium batteries in transportation, especially those for disposal or recycling.
-----
General PDFs